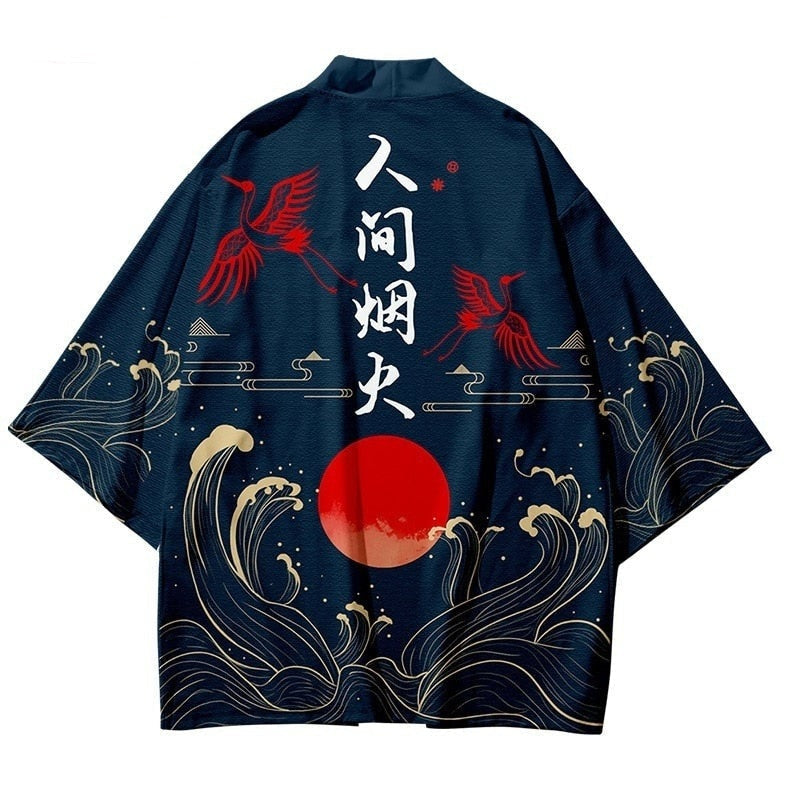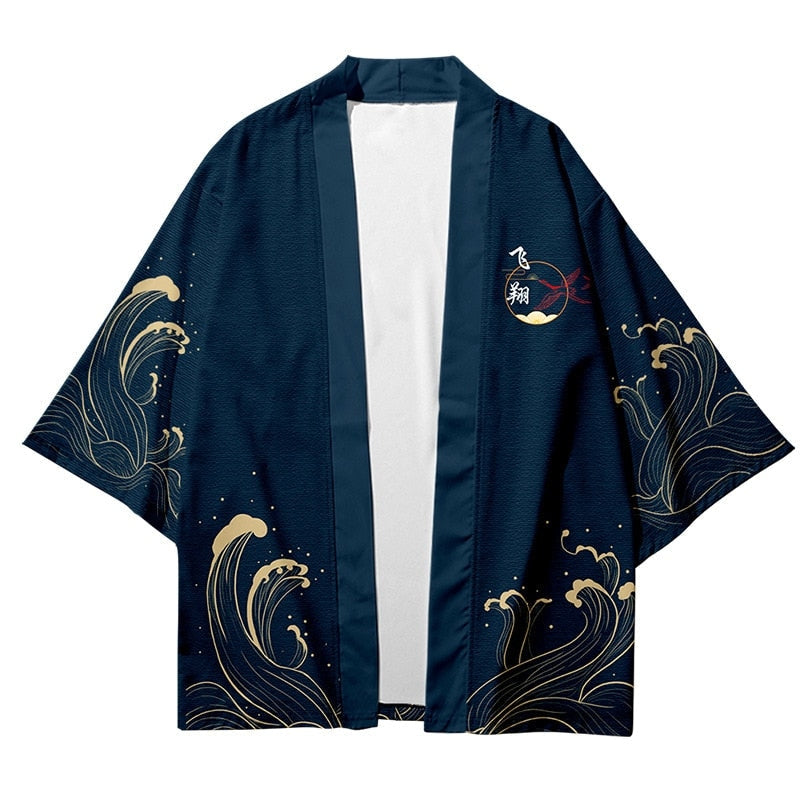 Kimono Jacket Kanji
In stock
Kimono jacket with beautiful kanji calligraphy motifs

Ample and flowing, you will certainly like to wear this beautiful kimono jacket Kanji. To be worn open on a simple white t-shirt. Its print is composed of kanji calligraphies, Japanese cranes, a red sun in the back and waves all around. Buy your unisex kimono jacket now and adopt a Japanese style.
KIMONO JACKET DETAILS
Unisex kimono jacket
Fabric: polyester
Flowing and lightweight
Straight fit
Mid-length sleeves
SIZE CHART
Please note that these are Asian sizes. Please refer to the table below in order to find your size. We recommend taking 1 or 2 sizes above your usual size.
In centimeters:
| | | | | |
| --- | --- | --- | --- | --- |
| Size | Shoulders (cm) | Chest (cm) | Sleeves (cm) | Length (cm) |
| XXS | 49 | 99 | 32 | 68 |
| XS | 52 | 105 | 33 | 70 |
| S | 55 | 111 | 34 | 72 |
| M | 58 | 117 | 35 | 74 |
| L | 61 | 123 | 36 | 76 |
| XL | 64 | 129 | 37 | 78 |
| XXL | 67 | 135 | 38 | 80 |
| 3XL | 70 | 141 | 39 | 82 |
| 4XL | 73 | 147 | 40 | 84 |
| 5XL | 76 | 153 | 41 | 86 |
| 6XL | 79 | 159 | 42 | 88 |
In inches:
| | | | | |
| --- | --- | --- | --- | --- |
| Size | Shoulders (in) | Chest (in) | Sleeves (in) | Length (in) |
| XXS | 19.3 | 38.9 | 12.6 | 26.8 |
| XS | 20.5 | 41.3 | 13 | 27.6 |
| S | 21.6 | 43.7 | 13.4 | 28.3 |
| M | 22.8 | 46.1 | 13.8 | 29.1 |
| L | 24 | 48.4 | 14.2 | 29.9 |
| XL | 25.2 | 50.8 | 14.6 | 30.7 |
| XXL | 26.4 | 53.1 | 15 | 31.5 |
| 3XL | 27..5 | 55.5 | 15.4 | 32.3 |
| 4XL | 28.7 | 57.9 | 15.7 | 33.1 |
| 5XL | 29.9 | 60.2 | 16.1 | 33.8 |
| 6XL | 31.1 | 62.6 | 16.5 | 34.6 |