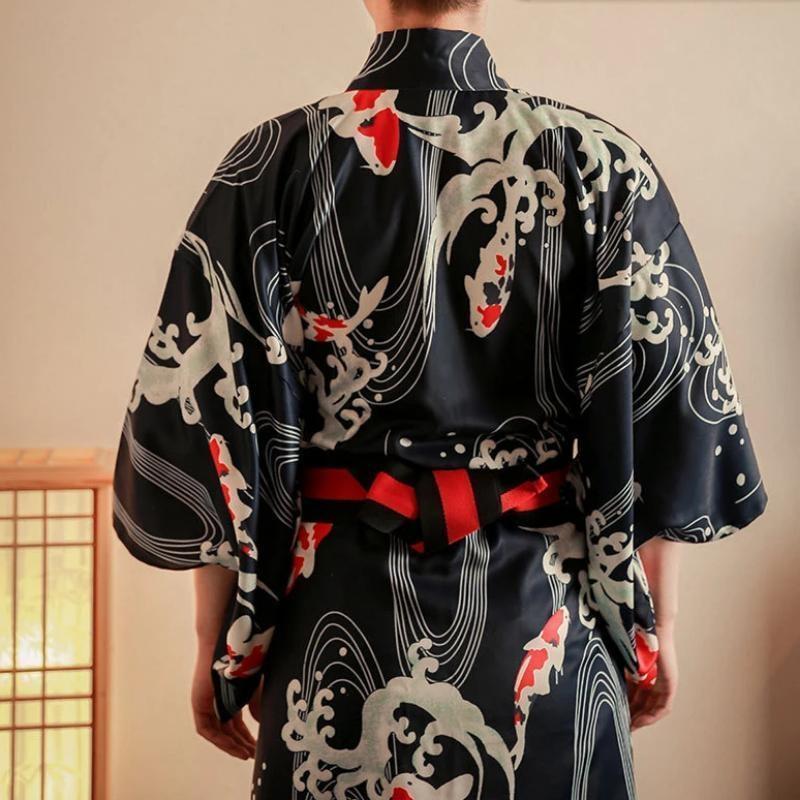 Men's Japanese Koi Kimono
In stock
Japanese kimono for men with koi fish pattern, which is a symbol of strength and virility
This Japanese kimono for men features a beautiful pattern illustrating the koi fish in rough waters. The koi fish is an important animal in the Japanese culture, a symbol of strength, perseverance and success. This symbolism is explained by the fact that they are able to swim upstream through rivers and waterfalls.
For special events, to be comfortable at home or for costume parties, this koi kimono for men is very pleasant to wear thanks to its soft fabric and wide sleeves.
KIMONO DETAILS
Fabric: cotton and polyester
3/4 wide sleeves
Kimono length: 140 cm

one size: suitable for men between 1m60 and 1m85, weight up to 110 kg.



Obi belt provided with the kimono

HOW TO WEAR A KIMONO
How to wear your kimono and tie your obi belt:
Be careful not to forget to fold the left side of the kimono over the right side! In Japanese culture, the opposite is reserved for people who passed away. 👻
If you want to wear your Japanese kimono properly, it's recommended to dress it with a nagajuban underneath, a white cotton underwear. Therefore, the kimono isn't in direct contact with the body, so it can be washed infrequently.